Social Network User Mapper
What is it?
Social Network User Mapper (SNUM) is a Firefox add-on that will tell you what social networks a user belongs to while browsing the web.
Download
How does it work?
Here is an example: You are viewing someone's twitter page. With the extension installed, it will automatically tell you what other social networks a user belongs to in the status bar of the browser: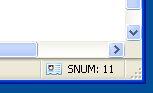 You then right click to get a list of the networks, and left click to navigate to the site: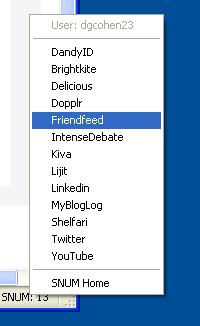 You can also right click the icon and get additional info: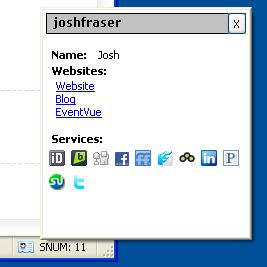 The add-on utilizes dandyId to perform the reverse lookup. If the user has not set up a dandyId account, the Google Social Graph api is then used. The results of the Google api can vary, so it is better to define your own identity by creating a dandyId.
Where do I get it?:
You can Download right here.
How does it really work?
It recognizes a social network site and strips out the username in the url. It then utilizes the dandyId api to lookup the user's other social networks. If the user does not have a dandyId, the Google Social Graph api is used.