Below is a list of updates for SNUM 1.2.0. You can download SNUM from this page:
What's New:
Profile Info Popup: An icon has been added in the status bar. When you right click it, more information is shown about the user.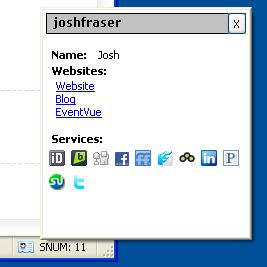 The keyboard shortcut Alt-I (Option-I on Mac) will work in addition to right clicking the icon.
You can still right click the SNUM label to get a quick list of social network sites to navigate.
Currently the profile info is coming from dandyId. I am planning on supplementing the info with Google's social network api.